Guide to the Best Beach Restaurants When Cruising Phang Nga Bay
Whether you are making the most of your Phuket holidays on an island hopping day trip or savouring the pleasures of boating on a week cruise, make sure you step ashore to enjoy some of the best seafront restaurants on the islands while cruising Phang Nga Bay.
Here are 9 eateries we love most and always recommend to our yacht charter guests visiting Koh Yao Noi, Phi Phi, and Krabi area:
1.The Living Room Restaurant
Where: Six Senses Resort on Koh Yao Noi
Cuisine: Asian & Western
Style: fine dining amidst the tropical forest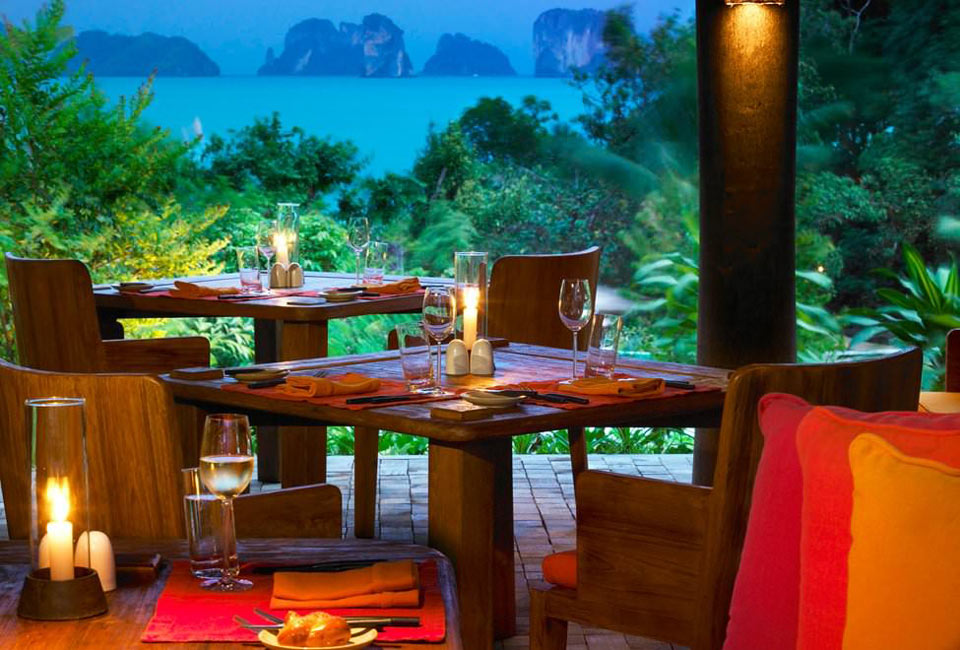 Probably the most luxurious of all island located resorts, Six Senses Yao Noi offers the highest level of dining with idyllic views of the limestone rocks of Phang Nga Bay.
The Living Room restaurant is where the dishes of the Thai cuisine are prepared to perfection along with the offerings from the grill, tandoori and pizza ovens. All accompanied by an extensive wine list. Enjoy the warm welcome of the staff and their excellent service. Relax and enjoy your lunch in the rustic interior surrounded by the lush jungle.
Going back to the boat after lunch make sure to stop at The Hilltop Reserve to see the resort's stunning infinity pool with the best sea view you've ever witnessed in your life.
Stopping at Six Senses by boat is easy thanks to the resort's own pier. We recommend booking a table in advance.
For booking: Six Senses Yao Noi, +66 76 418 500.
2. Seafood Terrace
Where: Paradise Resort on Koh Yao Noi
Cuisine: Thai & Western
Style: relaxed dining on the beach, open-air but covered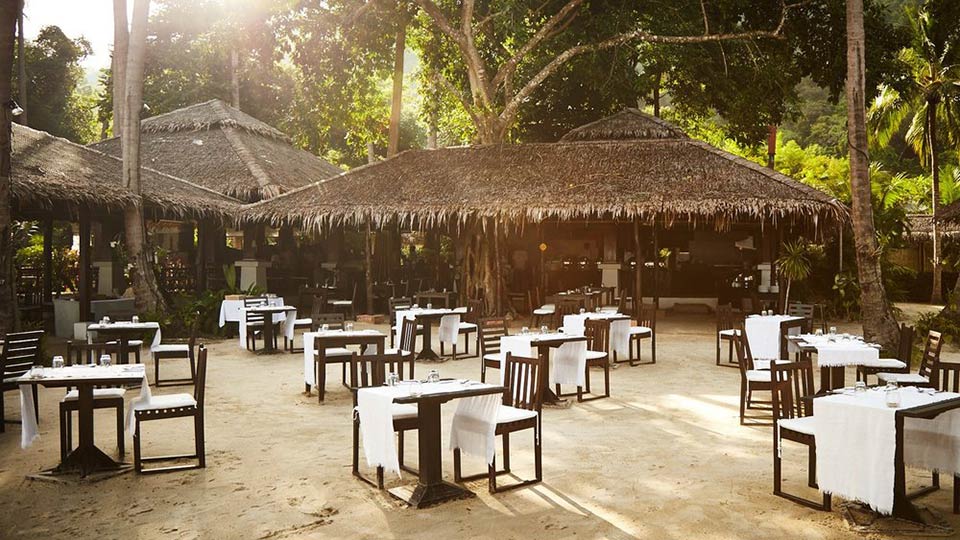 Seafood Terrace is nestled amidst the palm trees on the serene private beach of the 5-star Paradise Koh Yao Resort.
Look around as you walk from the pier to the restaurant – the limestone rocks surround the resort like a castle and create a stunning backdrop. The lunch menu offers a good selection of Thai and Western dishes with plenty of seafood options, all paired nicely with the restaurant's international wine list.
We love Seafood Terrace for the nice mix of an easy barefoot al fresco dining in the atmosphere of a luxury resort. Having visited the place on numerous occasions when cruising Phang Nga Bay our customers always enjoyed it very much.
Paradise Resort welcomes boat travellers on their private pier. An advance table reservation is recommended.
For booking: Paradise Koh Yao, +66-7658-4450.
3. Hornbill Restaurant
Where: Cape Kudu Hotel on Koh Yao Noi
Cuisine: International
Style: coastal chic interior by the pool, open-air but covered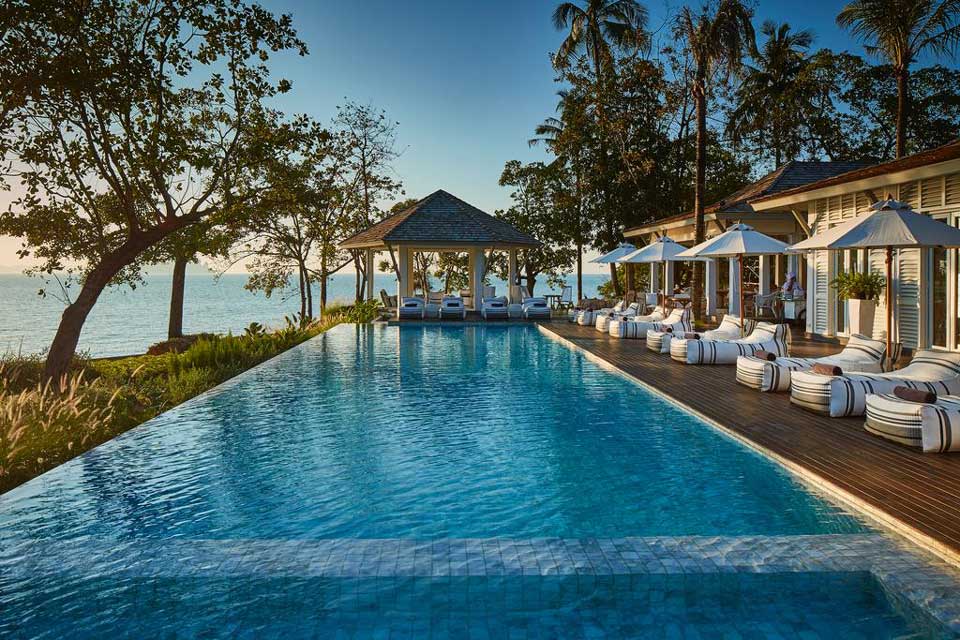 Another seafront gem on Koh Yao Noi's east side, Cape Kudu Resort welcomes you to its Hornbill Restaurant named after the bizarre hornbill birds that can be often spotted here.
This airy space is where rustic meets modern, decorated in the coastal chic Mediterranean style with whitewashed wood and pastel colours so pleasant for your eyes. Just like the views of the famous Phang Nga Bay rocks from the resort's pool and restaurant area. The Thai and Western dishes are created using home-grown herbs and vegetables, matching the menu's many gourmet ingredients, from Australian beef to the multiple seafood options.
Though the restaurant's location is not directly on the beach the hotel is happy to arrange a pick up once you step ashore from the yacht. In any case, the walk to the restaurant from the beach only takes 5 minutes.
For booking: Cape Kudu Yao Noi, +66 76 592 600.
4. Pasai Seafood Restaurant
Where: Pasai Beach on Koh Yao Noi
Cuisine: Thai & Italian
Style: laid-back beachfront dining, open-air in the shade of trees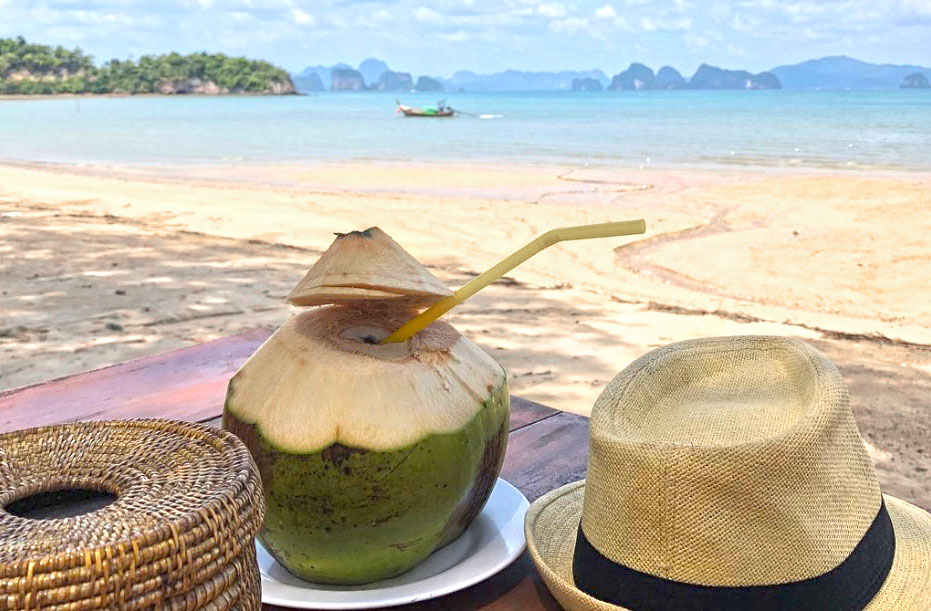 From the numerous dining options offered at Koh Yao Noi's east coast Pasai Restaurant is definitely the easiest going and the cheapest one. With its rustic feeling, the place has a nice and welcoming atmosphere. The smiley staff keeps the area clean and with a bit of a character by decorating it with cute wooden pointers of where to wash your hands or where to relax.
The food is Thai and is very delicious. A fresh seafood selection is always on display too. This can be grilled for you right on the beach while you are chilling out under the casuarina trees with your feet in the sand. And the views across Phang Nga Bay add to the perfection of this easy place.
5. The Grotto
Where: Rayavadee Resort at Railey Beach, Krabi
Cuisine: International
Style: beach front dining under the rock, open-air but covered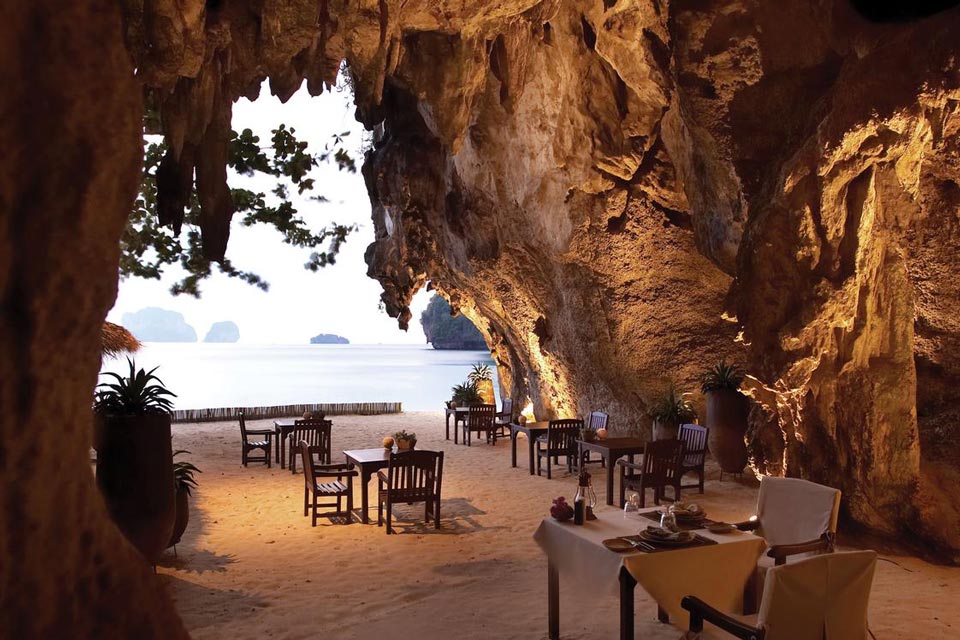 The five-star Rayavadee Resort is the number one place to stay when we think of Railey Beach in Krabi. The photos of its jaw-dropping The Grotto Restaurant in the limestone cavern are world-famous. And you can easily get there for lunch or dinner when cruising Phang Nga Bay on your private yacht.
The Grotto offers Thai and Western dishes with an impeccable service of a 5-star resort. The menu is not big but the selection is enough to choose from. Restaurant's speciality is a seafood barbecue that is being prepared on several special nights every week.
After meal take a walk around the resort. One of the most beautiful in the south of Thailand, it literally sinks in lush tropical trees with a backdrop of the sky-high limestone cliffs. Home to the resort is Phra Nang Beach with bizarre stalactite and stalagmite formations in the southern end, as well Princess Cave famous for…. Well, we'd better not say. You should see it yourself!
Due to the popularity of the place, an advance booking is highly recommended.
For booking: Rayavadee Resort, +66 2301 1861.
6. Beach Restaurants
Where: northern part of Klong Muang Beach, Krabi
Cuisine: International
Style: relaxed beach-side dining in the shade of trees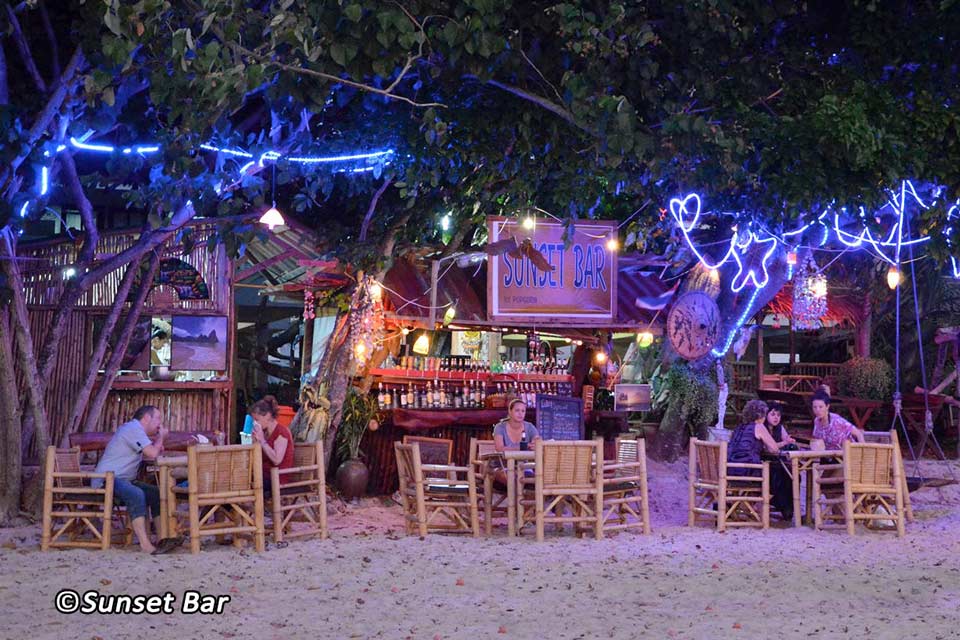 Klong Muang Beach is one of the nicest in Krabi. Not as busy as Ao Nang or Railey, with soft sand and a good array of cute little eateries, it's a real chill to be here. You can probably count around 10 bars and restaurants tucked in next to each other creating one of Krabi's most interesting beach scenes.
This is why we love Thailand – for a possibility to dine right by the sea in a basic but quirky local shack enjoying the warmest possible welcome from the owner, all for a quarter of what you'd pay back home.
In places like this, we normally follow the rule "When in Thai – eat Thai". Though some of the restaurants offer pizza (quite a good one, we heard) and pasta, give a real treat to your taste buds by ordering local Thai specialities including fresh seafood.
7. The Arundina Restaurant
Where: Tubkaek Boutique Resort at Tubkaek Beach, Krabi
Cuisine: Thai and Western
Style: cosy seafront dining by the pond, open-air under the umbrellas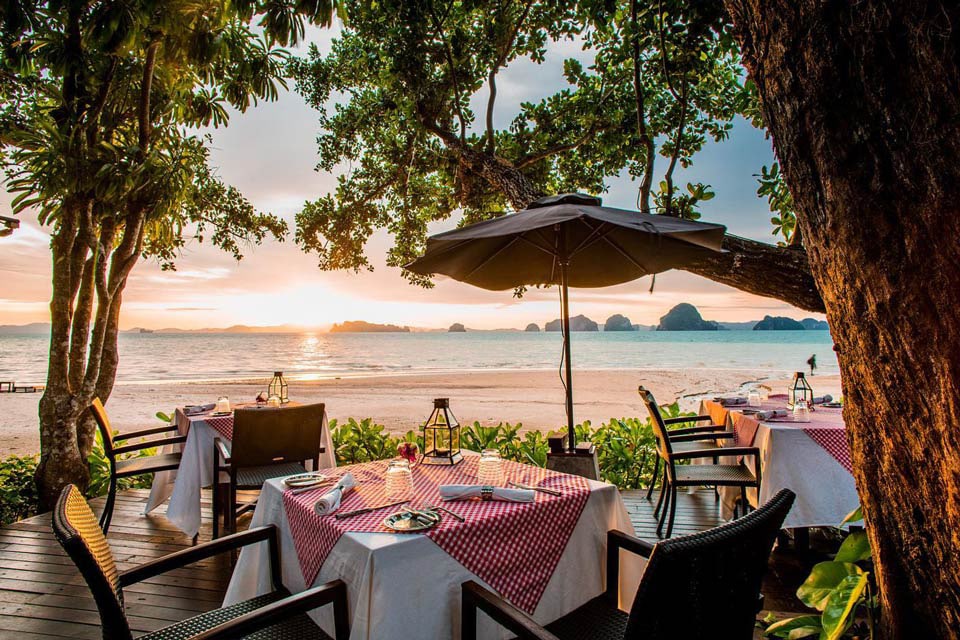 As if Klong Muang Beach is not peaceful enough for you there is Tubkaak Beach further north of it, even more tranquil, with no tourist crowds and just a handful of 5-star resorts. One of them is a small but stylish Tubkaak Boutique Resort, with a beautiful The Arundina Restaurant where we love stopping by for lunch or dinner when cruising Phang Nga Bay.
Surrounded by the lush tropical trees and a lovely pond, The Arundina is a sweet place to enjoy your Thai or Western style al-fresco dining while taking in the fascinating Krabi seascape. Those limestone cliffs look even more impressive at sunset making The Arundina a perfect spot for a romantic dinner, in case you decide to stay in the area for the night.
For booking: Tubkaak Resort, +66 7562 8456.
8. Tacada Restaurant
Where: Zeavola Resort at Phi Phi Don
Cuisine: Mediterranean/Western
Style: pleasant open-air restaurant with an option of a picnic dining on the beach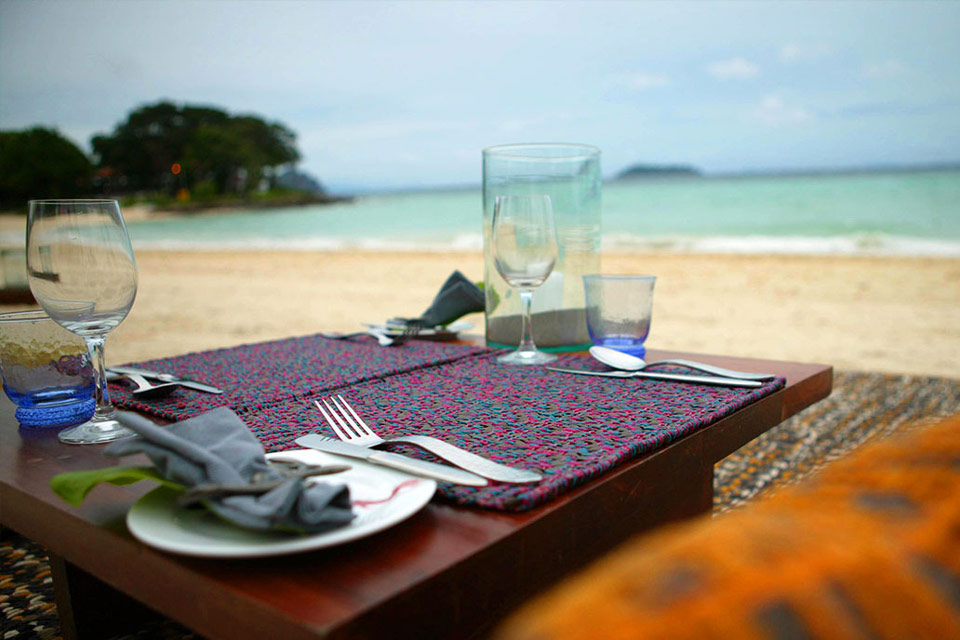 Phi Phi Islands are one of the top tourist attraction points in southern Thailand. Probably 70% of our charter customers want to visit the place, see the famous Maya Bay where The Beach with Leo DiCaprio was filmed along with beautiful lagoons and cosy little beaches there. No surprise Phi Phi can be very busy at times. And this is when a lunch at a 5-star resort on a tranquil beach can be a well-deserved break. And Tacada Restaurant at Zeavola Resort is just that.
Located at the northern tip of Phi Phi Don, on Laem Thong beach, this boutique hotel looks like a rustic Thai village when you see it from the distance. However, a closer look reveals a luxury retreat with a high-class service and a charming restaurant. The menu offers a selection of Western dishes of the local and imported meats and seafood, with some vegetarian options.
So make yourself comfortable on this peaceful beach by the turquoise clear water and enjoy your meal!
For booking: Zeavola Resort, +66 7562 7000.
9. KruVit Raft Restaurant
Where: Maphrao (Coconut) Island
Cuisine: Thai seafood
Style: rustic dining on the raft, open-air but covered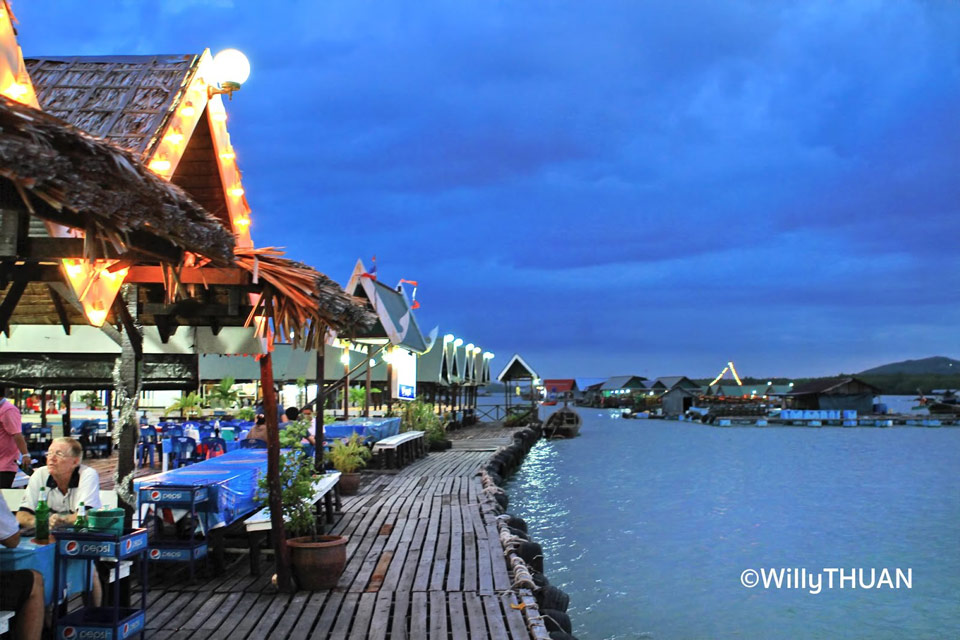 A holiday in Thailand is impossible without a good fresh seafood meal. To make it even more memorable a visit to a floating raft-type seafood restaurant on Maphrao (Coconut) Island off Phuket's east coast is a must. KruVit Seafood is one of those restaurants and a great lunch stop when cruising on your private charter yacht.
The restaurant and its neighbours originate from the seafood farms operating right there. The interior is very basic – several large wooden rafts connected together, all with thatched roofs over wooden tables. But this place is all about the seafood: oysters, tiger prawns, crabs, squid, local varieties of fish, all cooked the way you want it: grilled, steamed, stir-fried, or served as part of soups and curries. With a selection of Thai sauces, and beer or soft drinks.
While waiting for your order have a walk to the rear part of the restaurant to see the fishes, crabs and crustaceans kept in the netted pools between the rafts. Since the restaurant is one big raft you can moor alongside it on your boat.
Even though we always offer onboard catering to our guests, sometimes it is nice to have a break and try something different, like one of these beautiful places. Now that we've introduced you to the best beachfront restaurants to visit when cruising Phang Nga Bay, all you need to do is choose a yacht for your trip.
Do you want to visit a restaurant not listed in the article? No problem, send us a message and we'll be happy to book it for you! Happy cruising and happy eating!