Tips for Choosing the Right Charter Yacht in Phuket
Today the yacht charter market of Phuket offers plenty of options to those planning to spend their holidays cruising around the numerous island getaways and pristine bays.
Very often our customers don't know what type of a charter yacht in Phuket they are looking for unless they see the selection of boats available for their date, number of guests and desired destination.
Whether they want to cover 5 islands in 1 day or visit them in a week, to take a group of 4 best friends or 40 employees, to get spoilt with luxury or to enjoy the feel of an old classic boat – we at Boat in the Bay are happy to cater for all of these requirements.
If a private yacht trip is on your holiday agenda but you get lost in the variety of boats then the below tips will help you to figure it out and pick the right charter yacht in Phuket.
Motor Yachts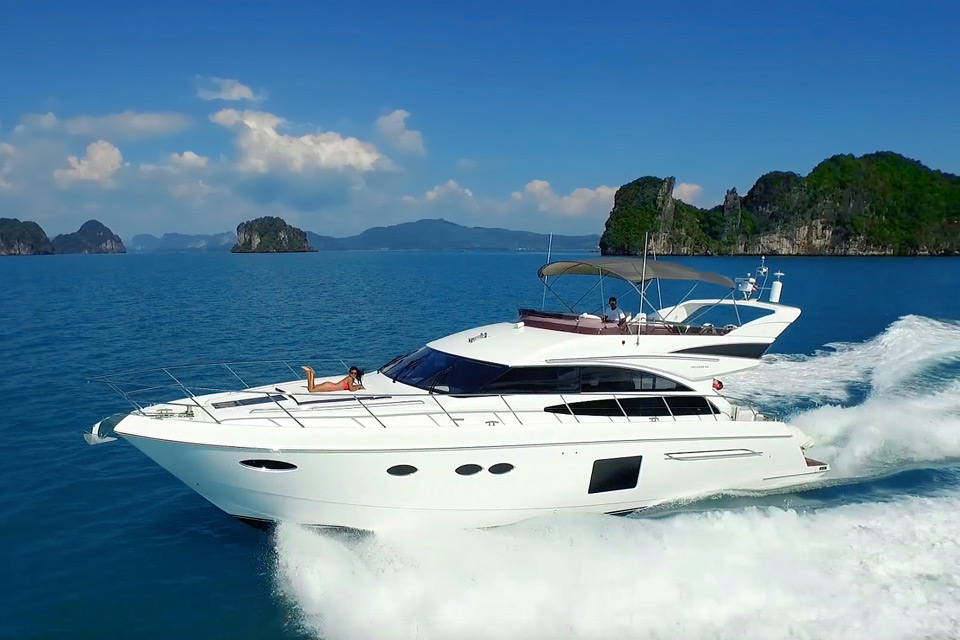 Choose a Motor Yacht for your charter in Phuket if you are looking for:
High speed
Motor yacht fans normally prefer the destination to the journey. They put comfort and speed high on their priority list. An average cruising speed of 15 to 20 knots allows motor yachts to cover longer distances. Visiting Racha Islands in a day or Similan Islands in 2 days is easy when your charter yacht in Phuket has got 2 big and powerful engines!
Space and cabin accommodation
A medium sized motor yacht normally has 2 to 3 decks – more than enough for all the guests to socialize, dine and sunbathe. Cabins are spacious, with an expensive high-quality finish and en-suite bathrooms. The galley is well equipped to provide catering during long-term charters.
You are prone to seasickness
Modern motor yachts are often equipped with stabilizers to reduce roll at anchor or when travelling in choppy seas. A real life-saver if a seasickness is your problem.
Your budget is generous
The cost of a charter yacht is based on her value. Naturally, a triple deck motor yacht takes a long time to design and build, involving the use of the highest quality materials and the latest technologies. There are also factors like the year the boat was built, the builder, and the boat's selection of water toys that can also increase the cost of a yacht.
So the more you pay the more luxurious your boat is going to be.
Sailing Yachts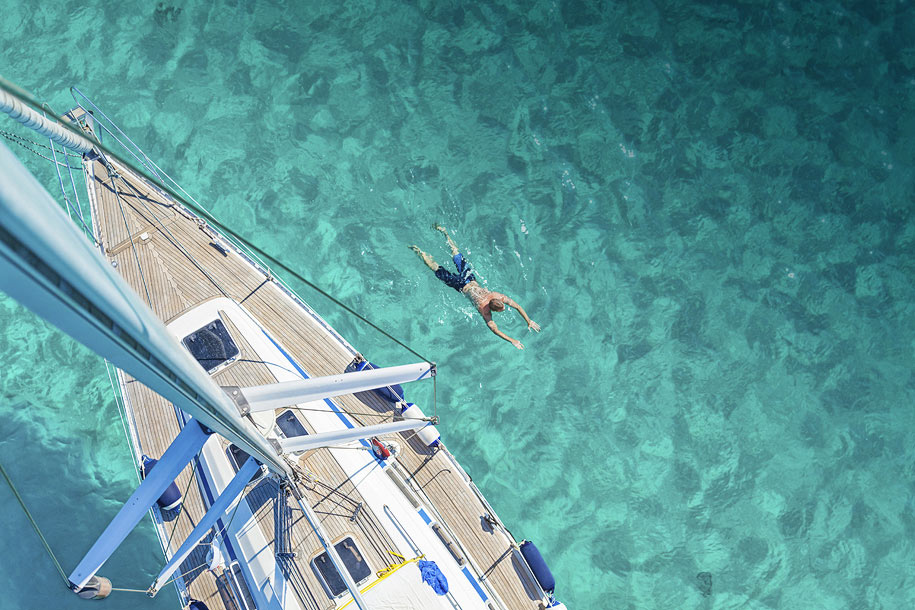 Sailing Yachts are very often chartered by people with a previous boating experience. These customers either did it before with a skipper, or are qualified enough to do it by themselves.
Go for a Sailing Yacht Charter in Phuket if you prefer:
Journey to a destination
Sailing Yachts stand no rush. Complete peace and easy cruising under the wind-filled sail – this is the whole point of them. These boats follow the special philosophy of life at sea: it is not the speed that matters, but the contact with the sea, wind and nature.
The cruising speed of a Sailing Yacht is 5 to 10 knots on a calm day, with a low-power engine to assist. And if the wind conditions allow, spread the sail and enjoy the ride with up to 20 knots of speed.
No skipper
If you yourself are a certified skipper, then you can charter a sailing yacht in Phuket with no skipper. A bareboat rate is much lower than a skippered one, and you get a boat with her on board equipment under your full control. Security deposit is charged before the charter and returned after if the boat is safe and sound.
Your budget is limited
The charter price of a sailing yacht is generally more affordable. As previously said, it is all about the value of the boat as a result of its construction cost.
Sailing superyachts deserve a special mention. Their luxury amenities, highly trained crew and a choice of on-water entertainment are aimed to exceed one's expectations. Just like the 200 ft Lamima – someone's ideal charter yacht in Phuket.
Power Catamarans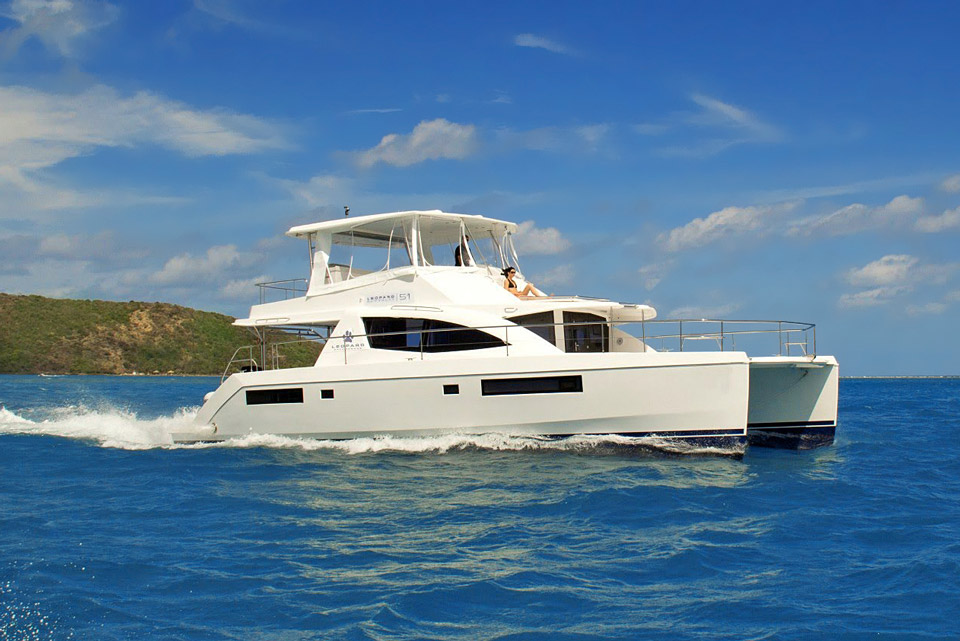 With pretty much the same set of comforts as a Motor Yacht, a Power Catamaran still has its distinctive features:
Comfortable speed
Though some Power Catamarans can develop speeds similar to those of Motor Yachts they are still a little bit slower. Their speed range is a happy medium between motor and sailboats – cutting the waves at 15 knots feels very comfortable yet takes you to a destination quite quickly. Thanks to the lower fuel consumption their cruising range is higher as well.
Space and cabin accommodation
Catamarans are multihull boats – they have 2 hulls spacious enough to accommodate comfortable cabins with en-suite bathrooms. The large space between the hulls serves as saloon and galley and also creates a sound buffer between cabins. With a saloon door being open the catamaran's main deck turns into a vast entertaining space. And together with an upper deck Power Catamarans are made perfect for large groups of guests.
Stability
Catamarans are famous for their stability – they "stand" on their hulls like on the feet. Being quite shallow they can approach very close to the shore, without fear of running aground.
Your budget is not high enough for a motor yacht charter
If a luxury motor yacht charter is over your budget go for a Power Catamaran. These boats, especially when new, will still give you that sort of exclusive cruise feel without asking too much for it.
Sailing Catamarans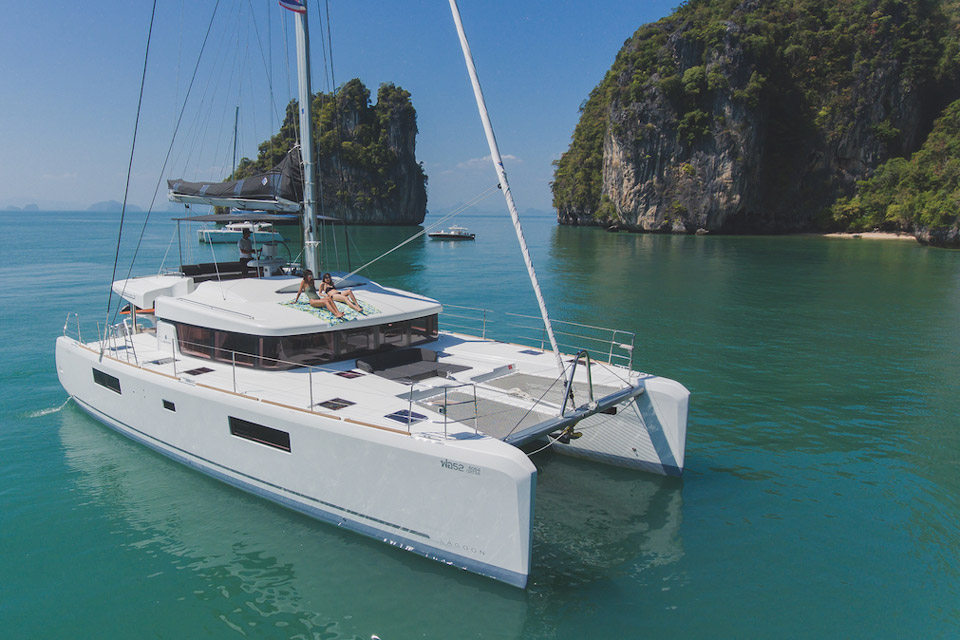 Make a Sailing Catamaran your charter yacht in Phuket if you are looking for:
Journey to a destination
Just like Sailing Yachts, Sailing Catamarans are perfect for those who love to follow the sun or plan for a longer range cruising.
They combine sail and low-power engines for cruising in calm waters and for manoeuvring when mooring. Though some lightweight catamarans going under sail can develop a speed compared to a power catamaran, on a calm day their speed will be about 9 knots.
Generous space and cabin accommodation
Catamarans are perfect for big groups. On a sailing passage, our customers love the bow area to enjoy the breeze and socialize. And when on anchor, we open the saloon door thus creating a large space for everybody aboard.
Some of Phuket charter catamarans can accommodate up to 85 guests on a day charter.
You are looking for a bareboat charter
Sailing catamarans are available for bareboat charters in Phuket. The conditions would be the same as for sailing yachts.
Your budget is limited
In Phuket, Sailing Catamarans are really popular for their generous space and affordable charter rate – a fine line between power catamarans and sailing yachts.
Speedboats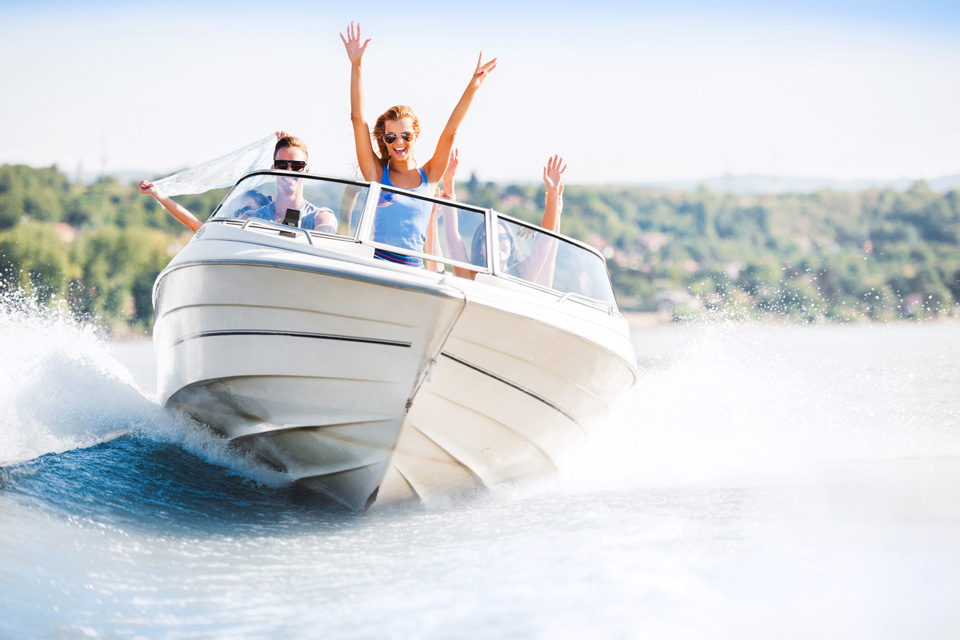 Speedboat is a smaller version of a motor yacht, normally up to 10 meters. Their name speaks for themselves – they are fast, as well as easy to get you right to the beach thanks to the shallow hull.
Let a speedboat be your perfect charter yacht in Phuket if you love the following features:
High speed
Speeding across the Andaman Sea at 24 knots will get you to Phi Phi Islands in just 1.5 hours. And Phi Phi won't be the only place you can visit on that day. These boats are ideal for an island hopping adventure around Phuket.
Affordable charter rate
The price of a private speedboat charter in Phuket is comparable to that of a catamaran. You can cover a much longer distance but the fuel consumption is higher too.
Day cruising
Although some speedboats have a cabin they are normally not offered for overnight charters in Phuket. If the guests occupy the cabin the crew has nowhere to sleep. But if staying in a nice resort ashore is an option then an overnight charter might be discussed.
Now when you know the basic difference between various types of charter vessels you can choose the right one for you ar our Yacht Charter Fleet page.
Still unsure? Then contact Boat in the Bay to find your perfect charter yacht in Phuket.