Guide to Beach Restaurants in Phuket Best to Visit by Boat
Eating ashore is a pleasant part of the boating lifestyle. Sailing along the coast of Phuket one can find an array of wonderful dining places, from local beach huts to Michelin awarded restaurants.
From boating point of view, preference is naturally given to those with secure anchorage and easy access – from the boat straight to the dining table. In this article we have gathered our favourite beach restaurants in Phuket visited by boats on numerous occasions. Their food is absolutely delicious, wine lists meet any requirements, and sea views stay with your forever.
1. The Cove
Where: Ao Yon Beach
Cuisine: Mediterranean with a few Thai options
Style: super laid-back dining in the shade of palms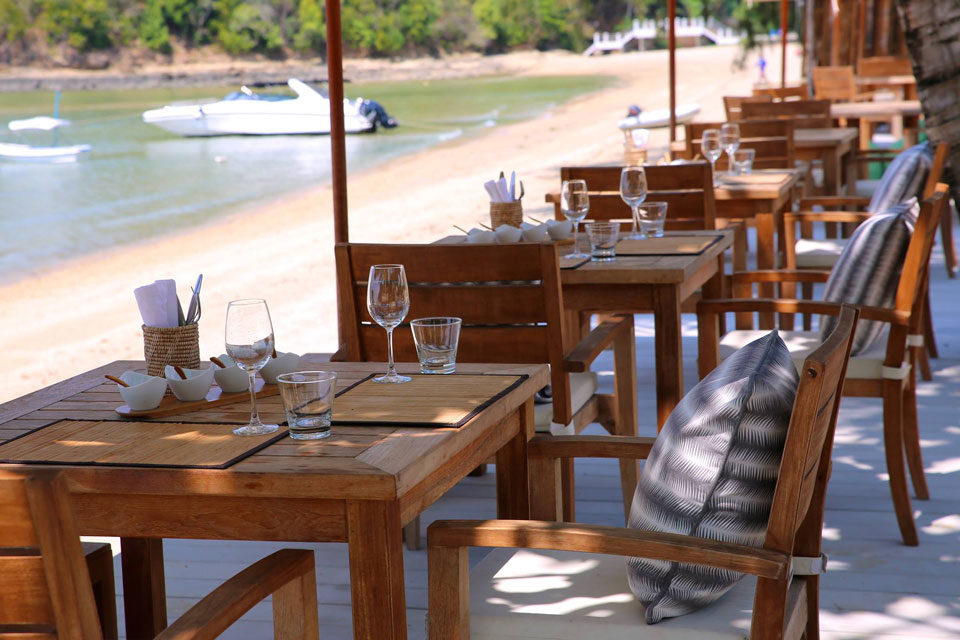 Ao Yon Bay is home to a wonderful eating place, The Cove. It is a bungalow resort with an open-air restaurant which you can easily visit by boat.
Sit back and relax on the restaurant's wooden terrace under the palm trees while sipping your favourite drink and taking the views of your boat gently rolling on anchor.
The Cove's menu is quite extensive and mostly Mediterranean styled. Various platters, salads, pizzas, seafood and meat dishes are created with a nice touch and delicious. A dozen of Thai dishes are on offer as well.
When it comes to drinks, The Cove's signature is an impressive cocktail list based among other ingredients on the local Chalong Bay Rum. Consider one of them as your sunset companion.
For booking: The Cove Phuket, +66 62 242 3442.
2. The Nai Harn
Where: Nai Harn Beach
Cuisine: International
Style: relaxed ambience of a 5-star resort; with a sea view or by the water – you choose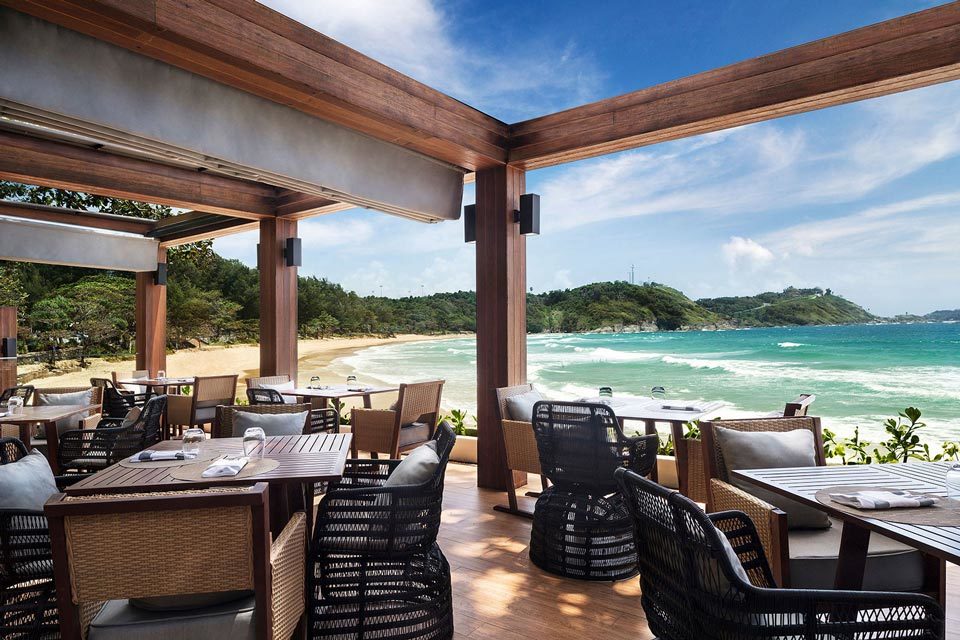 Nai Harn Bay on the south-western tip of Phuket is a favourite gathering point for cruising yachts in the high season, especially over Christmas period. The bay offers a good anchorage in any spot. Bars, local style beach restaurants, and massage huts can be found ashore.
For those looking for a more sophisticated dining, there is a 5-star The Nai Harn Resort nestled on the hill slope in the northern end of the bay. The resort offers 2 restaurants: Cosmo and Rock Salt. Try either of them or even both, depending on how long you are staying in this idyllic part of Phuket.
Cosmo welcomes guests throughout the day, from early breakfast till late dinner. Located on the 2nd floor, it offers a wonderful view of the bay as well as an extensive menu with dishes of Mediterranean, Thai, Italian, Japanese and other cuisines.
Rock Salt is a smaller and cosier venue with tables just a breath away from the sea. The menu has gathered all the favourites of Mediterranean and Thai cuisine with fresh seafood, meats, pasta and pizzas.
For booking: The Nai Harn, +66 7638 0200.
3. The Kata Rocks Clubhouse
Where: Kata Beach
Cuisine: Mediterranean and Thai
Style: modern interiors with the best ocean view in Phuket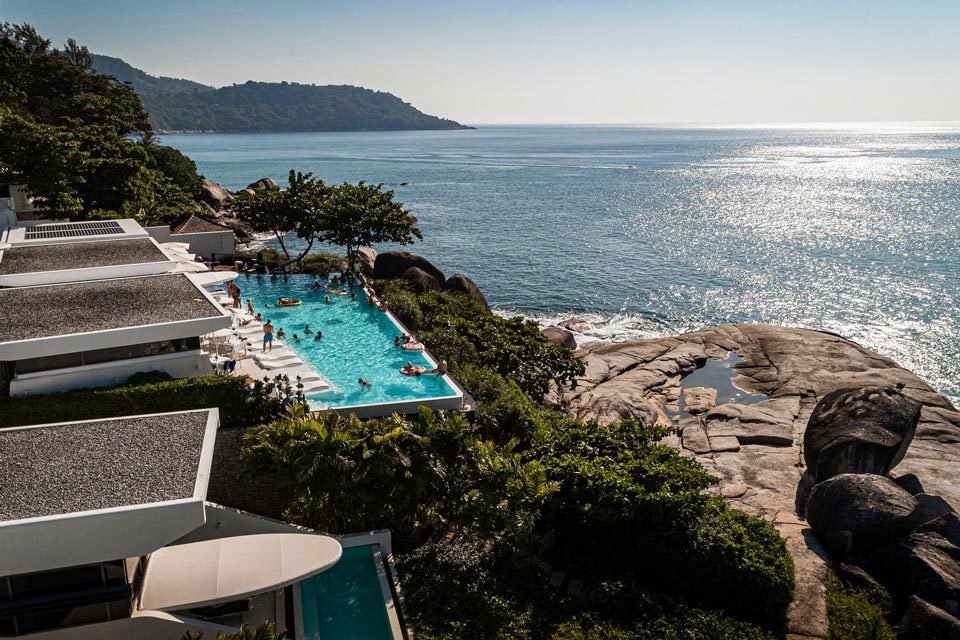 Kata Rocks luxury resort has welcomed our guests many times. What strikes them most is sweeping views of the ocean, and their boat moored amidst it.
Kata Rocks Clubhouse is known as the best place for a sunset drink and a romantic dinner in Phuket, recognised by prestigious publications such as 'Thailand Tatler Best Restaurant Guide' and 'Wine Spectator Awards'.
The restaurant menu is balanced between Spanish-Mediterranean cuisine and well-loved Thai specialities. The wine list is impressive but our recommendation would be to start with a cocktail based on the signature Kata Rocks Gin – very refreshing on a hot day.
Kata Rocks Pool Party featuring Mediterranean style Sunday Brunch is an experience not to be missed!
During the high season, the resort offers several moorings and a private floating jetty to make your visit by boat as comfortable as possible. Pick up/drop off service by tender is available too.
For booking: Kata Rocks, +66 76 370 777.
4. The Boathouse
Where: Kata Beach
Cuisine: International
Style: refined yet relaxed setting of a classic restaurant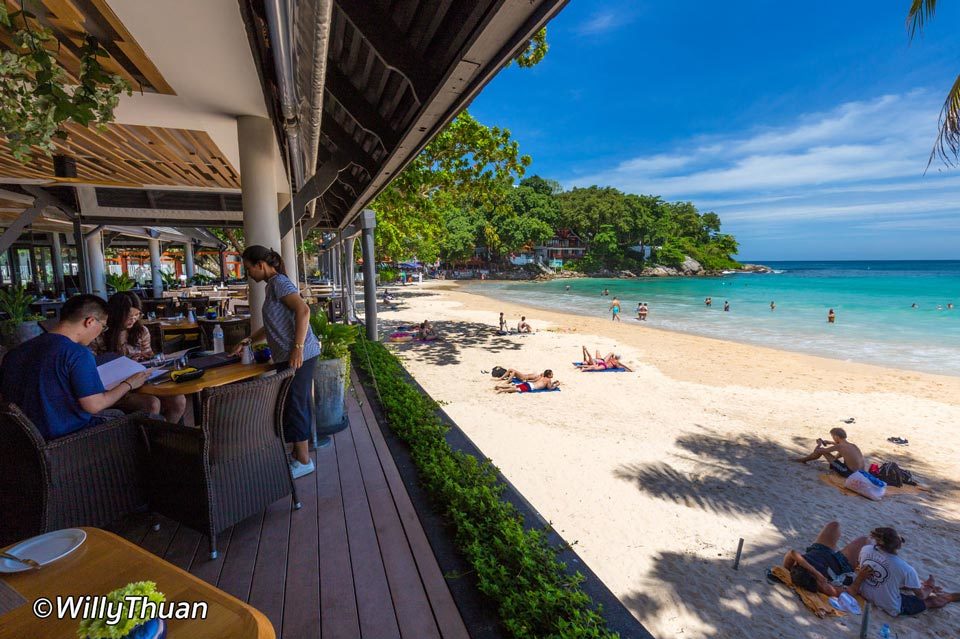 The Boathouse Phuket opened its doors back in 1989 and remains one of the oldest 5-star hotels and fine dining venues on the island. Originally built for boat owners – hence the name – it has warmly welcomed many of our clients and continues to do so.
Boasting a prime location in the southern end of Kata Beach, the Boathouse is perfect for a romantic sunset dinner literally at the sea's edge. The menu is pretty varied, with interesting gourmet options of authentic Thai and classic French cuisine. Various seafood and meats are among the main ingradiets. However, vegetarian and vagan options are on offer as well.
The Boathouse has been featured in every recent edition of Tatler's 'Best Restaurant Guide', as well as awarded with the Wine Spectator 'Best of Award of Excellence' every year since 2006. Over 600 labels from more than 17 countries are available. Some 32 wines can be had by the glass. Well-trained sommelier and restaurant staff are always ready to recommend you perfect wine pairings to complement the Boathouse fine cuisine.
There is no pier at Kata Beach. However, the southeast corner of the bay, opposite the Boathouse, offers anchorage in 8-10 metres depth on sand.
For booking: The Boathouse, +66 76 330 015.
5. HQ Beach Lounge
Where: Kamala Beach
Cuisine: International
Style: laid-back and intimate beachfront dining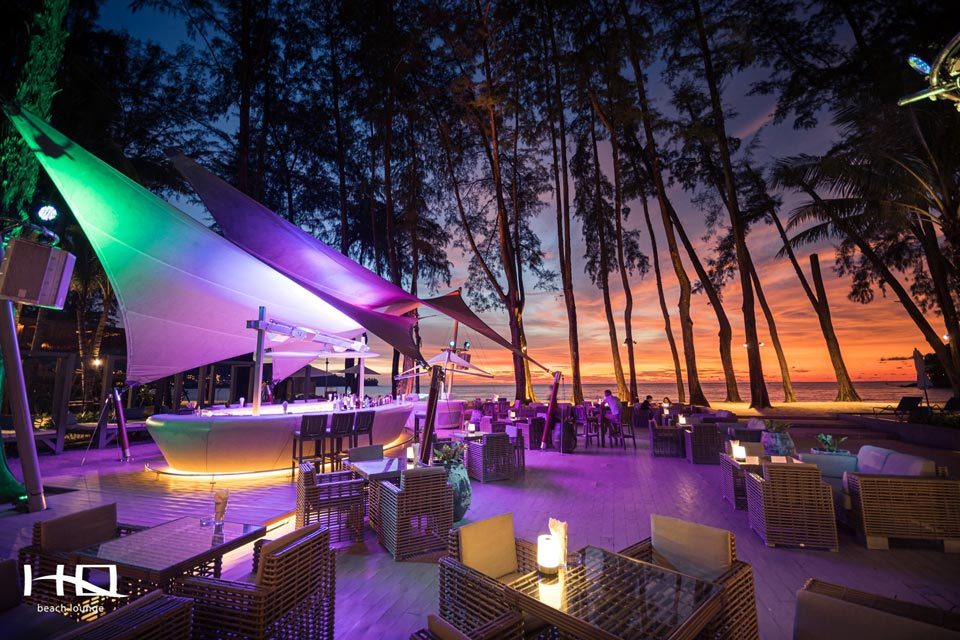 We love HQ Beach Lounge for the cosy and relaxing atmosphere in the nice shade of casuarina trees.
Drop the anchor in the bay opposite the restaurant. Start from visiting the bar for an ice-cold beer or a colourful cocktail, then move to the comfy dining area for a delicious meal, and finish the day by stretching yourself on the sunbed or in the cabana. HQ Beach Lounge is best to experience in no rush.
The food menu here is impressive, with a mix of classy Thai and Western dishes, all nicely presented. HQ offers an amazing selection of cocktails, premium spirits, as well as both draught and bottled beers. For wine connoisseurs there is a separate wine cellar with numerous old and new world labels and champagnes.
HQ is more of a chillout place, not a party venue. But if you are in a mood for one there is Cafe Del Mar Beach Club just next door. The place is normally busy with a younger crowd splashing in a large swimming pool with DJ's sets.
Both Cafe Del Mar and HQ Beach Lounge are run by the same highly professional team as Catch Beach Club further down in our list.
For booking: HQ Beach Lounge, +66 91 165 02 51.
6. Catch Beach Club
Where: Bang Tao Beach
Cuisine: International
Style: Phuket's most exciting and fashionable beach club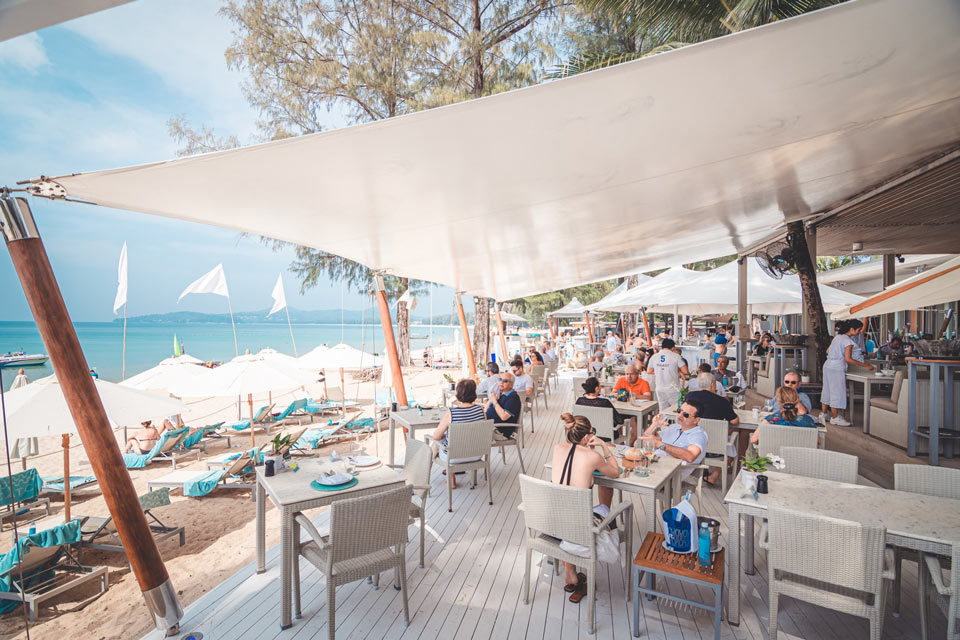 Catch Beach Club is Phuket's most famous beach club and simply a must-visit spot. Catch was the first to open here back in 2008. Even though the club had to leave its original location at Surin Beach, it managed to re-open at Bang Tao Beach not losing in popularity.
After the comeback Catch became bigger and better: an array of sun loungers and cabanas by the pool, spectacular bar and extensive dining area – both indoors and outdoors. All with excellent music played by resident and guest DJs, often accompanied by a live saxophonist.
The club main menu is mostly Western, well balanced between seafood and meats, pasta and pizzas, with a few vegan options. There is also Raw Bar menu listing caviars, oysters, seafood platters, and raw fresh fish on ice. Friday Night BBQ at Catch is something you should not miss.
Now parents can visit Catch Junior under the same roof with the main club. It's a den of activity where children can bounce, play, climb, and splash while you can sit back and enjoy watching them having the best time of their lives.
Visiting Bang Tao Beach by boat you can anchor right opposite the club. The bay is good for anchoring pretty much anywhere.
For booking:
Catch Beach Club, +66 65 348 20 17.
Catch Junior, +66 091 165 0235.
7. Trisara
Where: Nai Thon Beach
Cuisine: Western and Thai, Michelin Star Award
Style: elegant al fresco oceanfront dining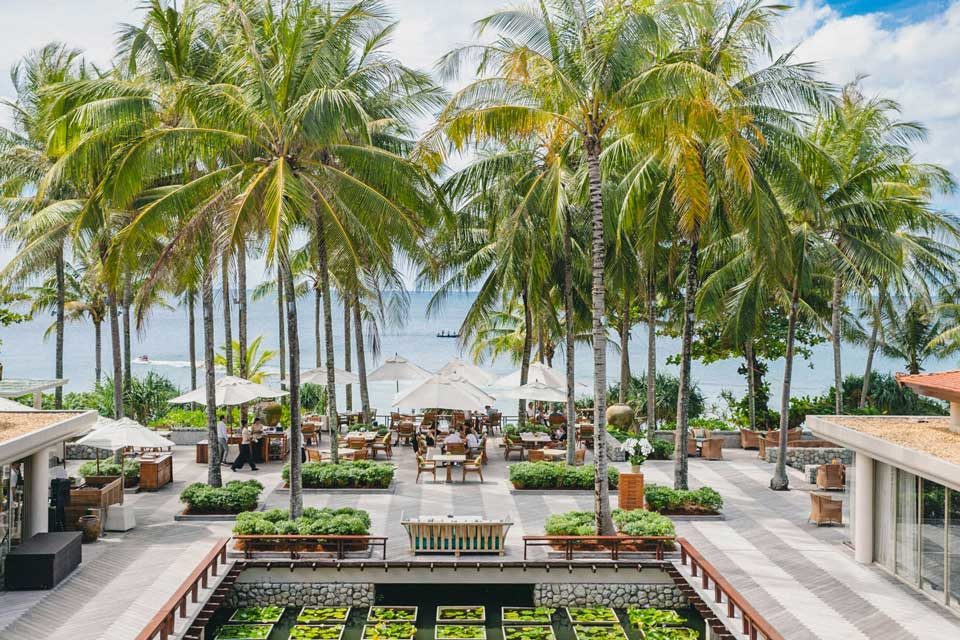 One of the most luxurious resorts in Phuket, Trisara offers the highest level of dining with exhilarating ocean views.
After dropping anchor in Trisara's private bay, step on the sandy beach and let the attentive staff take you to The Deck Restaurant. By the way, in the high season months you can use a floating jetty and teak pontoon to get ashore.
Now make yourself comfortable on the spacious teak patio overlooking the ocean. The Deck's menu is quite big and is based on Thai and Western cuisine. There are options for every palate and health requirement, be it lunch or dinner. An extensive wine list offers multiple choices from all key districts of the world.
Trisara focuses on using local organic ingredients in their menu. This philosophy has been recognised by the first and only Michelin star in Phuket, awarded to Pru, another restaurant at Trisara.
The team of Pru prides itself in growing a good part of their ingredients at the restaurant's own farm, and sourcing others from the local suppliers. Chef Jimmy Ophorst pays special attention to creative presentations and innovative food combinations with layers of flavour and balance. The restaurant is open for dinner only. Booking a table in advance is highly recommended.
By the way, Sunday Jazz Brunches at Trisara are one of the best in Phuket!
For bookings: +66 76 310 100.
The Deck  
Pru 
---
Even though we always offer onboard catering to our guests, sometimes it is nice to have a break and try something different, like one of these beautiful places. Now that we've introduced you to the best beach restaurants in Phuket to visit by boat, all you need to do is choose a yacht for your trip.
Do you want to visit a restaurant not listed in the article? No problem, send us a message and we'll be happy to book it for you! Happy cruising and happy eating!
Photo of The Boathouse courtesy of Phuket101 Blog